MISSION STATEMENT
The mission of STAR Inc. is to offer complete design and construction services to help our clients achieve their goals. We accomplish this through teamwork and attention to quality, value, and fairness. We succeed when we help our customers become more profitable.
Then And Now
In 1955, Bill and Louise Starbuck established their company to meet the construction needs of the local community. Their requirements for success included honesty, integrity and responsibility to the customer. Keeping their eye on opportunities to improve the level of service to their customers, STAR Inc. continually gained expertise in new construction methods and organizational types, all while building a substantial list of satisfied customers.Through time and hiring of professional employees, a now successful company earned a reputation of trust throughout Northern Ohio.
Today, STAR Inc. employs professionals consisting of architects, draftsmen, project managers, estimators, construction superintendents, foremen, electricians, carpenters, steel erectors, managers, administrative support, and more. With over 200 years of combined experience within the management team alone, you can rely on STAR Inc. to provide.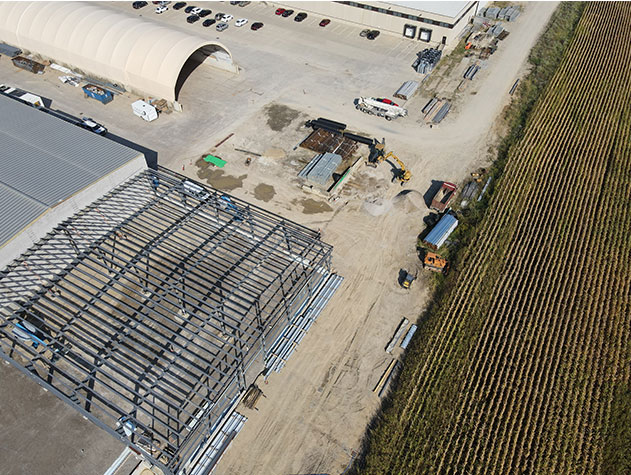 Star Architectural Group
In 1984, STAR Architectural Group was formed to meet the growing need for a more harmonious relationship between client, architect, and builder. Having the architects 'in-house' greatly improves the efficiency and effectiveness of communication with STAR's production team, enabling more consistent feedback and collaboration which means more successful design solutions for YOU.
Star Architectural Group focuses on understanding your needs and designing affordable, effective, efficient, and attractive structures. To further aid this process, the design staff is proficient in the use of the latest computer hardware and CAD software to produce precise construction documentation and drawings. Our design team can also produce site plans, master plans, space plans, interior and exterior designs, as well as
2- and 3-dimensional renderings to help you envision the results.
Anything we build starts as an idea or image in someone's mind. Our professionals are experts at translating your ideas into a tangible structure that exceeds your expectations and needs. You can expect a fresh approach to professional services with creative ideas and practical capabilities to meet your unique requirements.
OUR PHILOSOPHY
As a business owner or organizational leader, you want to rely on the integrity and dedication of your service providers whenever possible. Continually earning the trust of our customers is something in which STAR Inc. takes pride.
Given the opportunity, STAR Inc. will earn your trust by providing a product that meets and exceeds your expectations. Moreover, the product isn't just the facility, it's also the services we provide. It's your experience of the process – before, during, and after.
The proof is in our record of accomplishment. In addition to the numerous letters of recommendation we receive, our past customers usually become repeat customers for life. Over 70% of our business comes from repeat customers.
Acting with integrity, honesty, and dedication is what earns trust. Our actions are not dictated by 'what is profitable' or 'what is easiest', but by 'what is right.' When you team up with STAR Inc. for your construction project, you can expect the level of skill and effort necessary to earn your trust. It's these simple qualities that have made most of our customers, customers for life.​